By Shelley Brown
Engagement ring shopping isn't exactly the secretive process it used to be. More than ever before, couples are breaking tradition and talking about—and even purchasing—engagement rings together. In fact, The Knot's Jewelry Study shows 9 out of 10 brides are involved in selecting their ring, and 95 percent drop hints to their significant other about their ring preferences. Now that we've established engagement ring shopping is a shared experience for couples, how does finding an engagement ring work? If you and your partner are just beginning this—sometimes overwhelming—process, don't fret. Our ultimate guide to ring buying has you covered every step of the way.
Tip 1: Find A Jeweler
Start your jeweler search recommendations from friends and family. No leads? Check for industry organization affiliation. Stores accredited by the Jewelers of America or members of the Gemological Institute of America (GIA) are good starting places. And always find out what a store's return policy is. You want to be able to at least exchange the stone if it's not the one you want.
In our (ahem) unbiased opinion, The Knot Hint is a brand new way to approach ring shopping, and is another great place to start. The Knot Hint breaks down your fave ring styles into recommended design details and suggested local jewelers near you—and you can even email them to your significant other as a "hint." Why do we think this last bit is so genius? Your partner won't have to guess about your personal tastes and preferences, or where to find a reputable jeweler.
Tip 2: Study Up On the 4 Cs
Since diamonds are big ticket purchases, it's important to know what your paying for and how factors like cut, carat, color and clarity affect the look of your stone. What makes a flawless diamond more valauble than an included one? Find the answer to this and all your other technical sparkler-related questions. If you're interested in a colorful gemstone, read up on them here .
Tip 3: Know Your Platinum From Your Palladium
Not all metals are created equal. Whether you opt for classic platinum or retro yellow gold, you should know how the metal you choose will affect your ring's durability and overall aesthetic.
Tip 4: Explore Different Settings
The frame around your center stone can determine the style of your ring, and there are lots of options out there. Choose wisely!
Tip 5: Pick Your Persona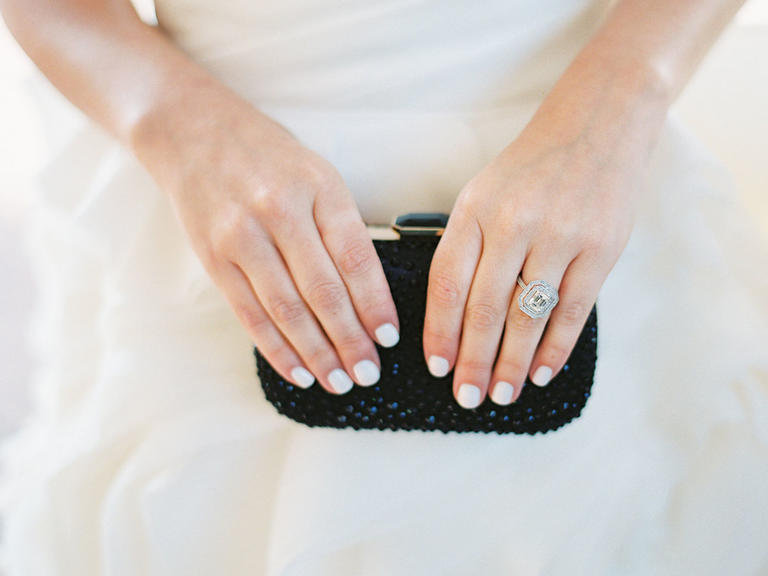 Are you a classic bride or a rule breaker? Defining your personal style can help narrow down your engagement ring options. Once you know the type of ring you're looking for, you can start gathering ring inspo. (If you're using The Knot Hint , we've already done the legwork for you with hundreds of engagement ring styles and easy-to-navigate favorites boards.) Even if you want your ring to be a suprise, it never hurts to give your significant other a gentle nudge in the right direction. Trust us, they'll thank you.
Tip 6: Decide If You Want To Go Custom
Say you found almost the ring style you want, but you want to change up the setting or design—that's totally possible! Keep in mind, custom rings are typically pricier than "off the rack" ones because they take more time and labor to create.
Tip 7: Figure Out Your Budget
Throw out that old two-months salary myth; You should buy the best ring you can without going into major debt. If size is important to you go for a ring with a slightly larger table, or surface area. You won't get as much sparkle, but a one-carat ring will look much larger if the stone isn't as deep. Don't want to sacrifice the look of your stone? Buying just shy of the next carat (1.8 instead of 2) can equal a savings of nearly 20 percent. And when it comes to clarity, buying shy gives you the most wiggle room without affecting sparkle (often defects are not visible to the naked eye).
Tip 8: Give Yourself at Least Six Weeks
Remember that once ordered, a ring can take up to six weeks to arrive, potentially longer if you're having it custom designed. If you want to engrave the inside of the ring, be sure to request the inscription when you place your order.
Tip 9: Get It in Writing
Diamonds one carat or larger should be accompanied by a diamond-grading report issued by an independent gemological association such as the GIA or the American Gem Society. You might also get a "fingerprint" of your ring on the bill of sale, which would include the stone's 4 Cs, shape, dimensions, and any cosmetic enhancements. Also, anything that affects its value—if it was made by a famous designer, is an antique or period piece, or is handmade or custom-designed—should also be noted.