Every year in the bridal fashion week, there are new dresses, unique ideas, amazing colors, impressive silhouettes and various neckline styles. There are things that remain the same as they were in the old collection but all those small details make the dresses look more elegant and beautiful. A bridal dress should be something out of the world. Some top dresses of bridal fashion week are detailed below:
A perfect bridal dress long flare:
The Amsale dress is perfect for any bride to wear on their wedding. This bridal dress is popular for its impressive and outstanding cuts and flares. It definitely makes your day stand out. All the Amsale dresses received an immense positive response after the bridal fashion week because of their fine details and light colors that really look outstanding.
Illusion b ridal dress with fine details:
This dress has an artistic vision, vintage style, and luxurious detailing. It has a romantic style, and is perfect for any bride for her big day. You can simply make your style classy by wearing this dress.
Well designed c ut of Monique Lhuillier's dress:
This dress carries both style and uniqueness at the same time. This dress has well-designed sleeves and cuts. This dress is the best among all in bridal fashion week.
https://www.moniquelhuillier.com/
White modern dress with no sleeves and wide neck:
This dress has its own style; a perfect light color reflects more sophistication yet makes you look sassy. It does not contain too much flare which makes it more modern and catchy for brides.
http://www.oscardelarenta.com/
Bridal dress wit h good texture:
This dress is inspired by their old dresses as they use the same material and cut into this one, so that they can reflect old styles and themes. By adding the old fine details, they created the best design that reflects old and new fashion sense simultaneously. It is a perfect piece for a bride.
http://www.davidsbridal.com/wedding-dresses/melissa-sweet
Two-strapped s tylish bridal dress with floral details
It is a perfect dress with unique style. It has excellent cuts, style, and colors with perfect flare. This dress just makes the brides go mesmerized with an outstanding design.
Elegant bridal dress with long V-shaped neck:
This dress has no sleeves and has a long V-shaped neck with big flare. White color with a good work of embroidery makes it more royal and elegant.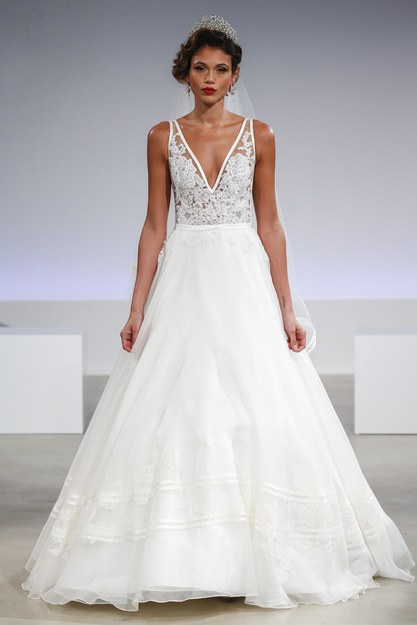 Shimmery bridal dress with fine details of the pearls:
This dress is of gray/silver color with much shimmery effect. It has striped style and a wide long neck. It basically reflects the modern details and cuts. This is perfect for any bride who wants to experience something different.
https://houghtonnyc.com/blog/houghton-bride/